Nearly since their founding in 1947,  the aircraft maintenance crews of the U.S. Air Force have followed the tried and true model of "component swap'. What does that mean? When an aircraft part is worn out, simply swap it out for a new one. Done. This model has worked and continues to work for the Air Force. However, this model only works if you have new parts, time and money readily available. Unfortunately, all three of these are not as readily available as they use to be. Luckily, VRC's Cold Spray technology can change the 76 year old "component swap" model to allow aircraft maintenance teams to quickly renew worn or broken components without removing them, all at a fraction of the cost and time of getting a new part. 
Ellsworth Air Force Base in South Dakota is home to the team leading the USAF efforts to utilize cold spray systems for repairs: The 28th Bomb Wing. The team has utilized knowledge and help from students and professors from the local South Dakota School of Mines and Technology to repair an over-wing fairing slip joint on an operational B-1B bomber in May of 2021. 
This slip joint is a crucial part allowing the B-1's wing to vertically flex. Historically, repairing this part would require much of the wing to be pulled apart just to remove the joint, costing both significant time and money. However, this specific repair was performed on-site of the Ellsworth Air Force Base with the joint still in place. 
Brian James, a Ph. D. graduate student at Mines and the additive manufacturing chief engineer with the 28th Maintenance Group, stated "this would have normally involved eight weeks of downtime; with cold spray we were able to do this in a couple hours." 
The B-1B bombers started active service in 1986 with all 100 bombers produced being completed by 1988. With such dated materials and technology still in use, getting a hold of parts for them is difficult, often with parts coming from another plane. It is estimated that after the disassembly and replacement of the slip joint would have cost the Air Force roughly $500,000. With Cold Spray technology repairing the original part would cost nothing compared to that. Additionally, the repair of the original part is extremely fast, as we can tell by the B-1B previously discussed being in full operation just 1 week after the repair.
It may be an easy process to understand but cold spray has taken years to perfect. 
What Is Cold Spray? 
Cold Spray is the additive manufacturing process of sending tiny metal particles mixed with concentrated gas at Mach 2-3 speeds through a nozzle onto a metal surface. With cold spray repairs, the metal particles are sprayed directly onto the part thus adding metallic materials to it, effectively building the part back up.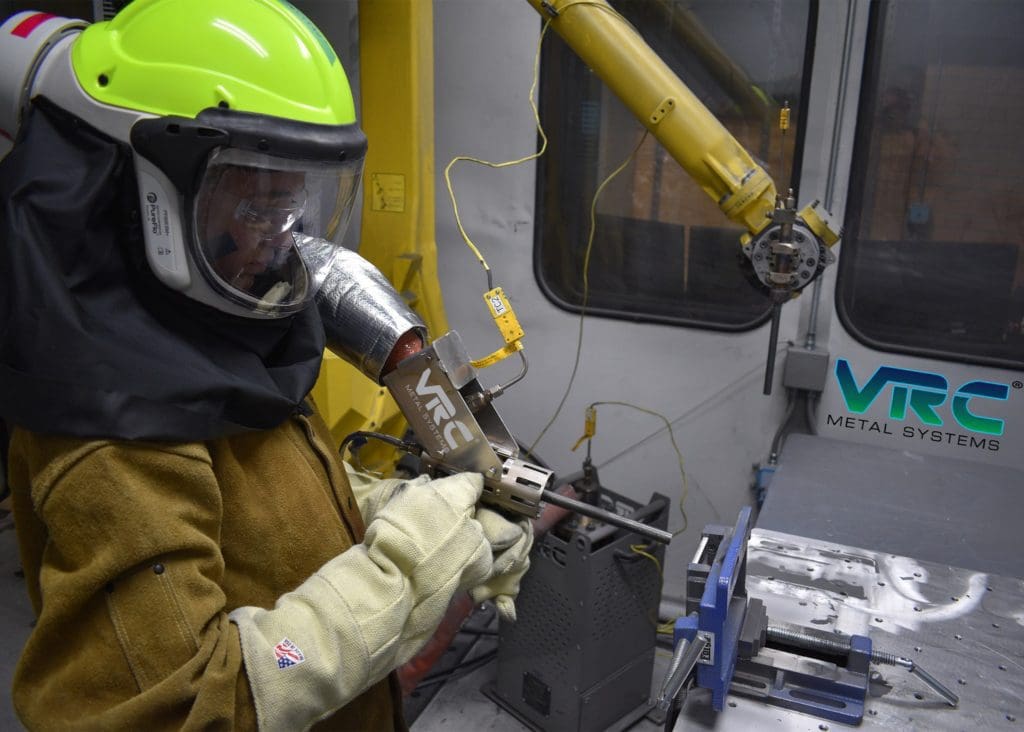 "Basically it's the speed of a rifle," Robert Hrabe, CEo and co-founder of VRC Metal Systems explains. "Imagine shooting a rifle bullet into a thick metal place, the bullet embeds into the surface, effectively welding itself there. We're doing the same thing only the particles are 5 to 15 microns [in size], about the consistency of baby powder.' 
The cold spray particles are fused into a solid state, forming a high strength bond to the intended surface. After the cold spray process is completed and the materials are bonded, the new materials are machined to match the original or intended shape making it both an additive and subtractive process. 
When it came to the B-1B slip joint, the team at Ellsworth Air Force Base utilized 6061-grade aluminum alloy particles to repair the part. When it was first being developed, cold spray primarily utilized soft metals such as aluminum. However, harder materials such as titanium and Inconel are being able to be used through recent advancements. 
Hrabe states, "Cold is a bit of a misnomer. It doesn't melt the material like flame-spray or HVOF [High Velocity Oxygen Fuel] or any of the other common welding or coating processes." 
The reality is that the materials are heated to 80% of their melting point, making them fungible. This means the process can be used to repair a plethora of parts and materials suffering from a wide range of issues including corrosion and chips. 
VRC Metal Systems' Rob Hrabe said, "One of the benefits of cold spray technology is the ability to cover large areas. There's no limit on the thickness [of additive material] that you can build up. We've even made whole parts additively using cold spray."
The research into the ability to restore aircraft components with cold spray technology started in the early 2000's at the School of Mines. Research continued and progressed until it led to more companies, including VRC.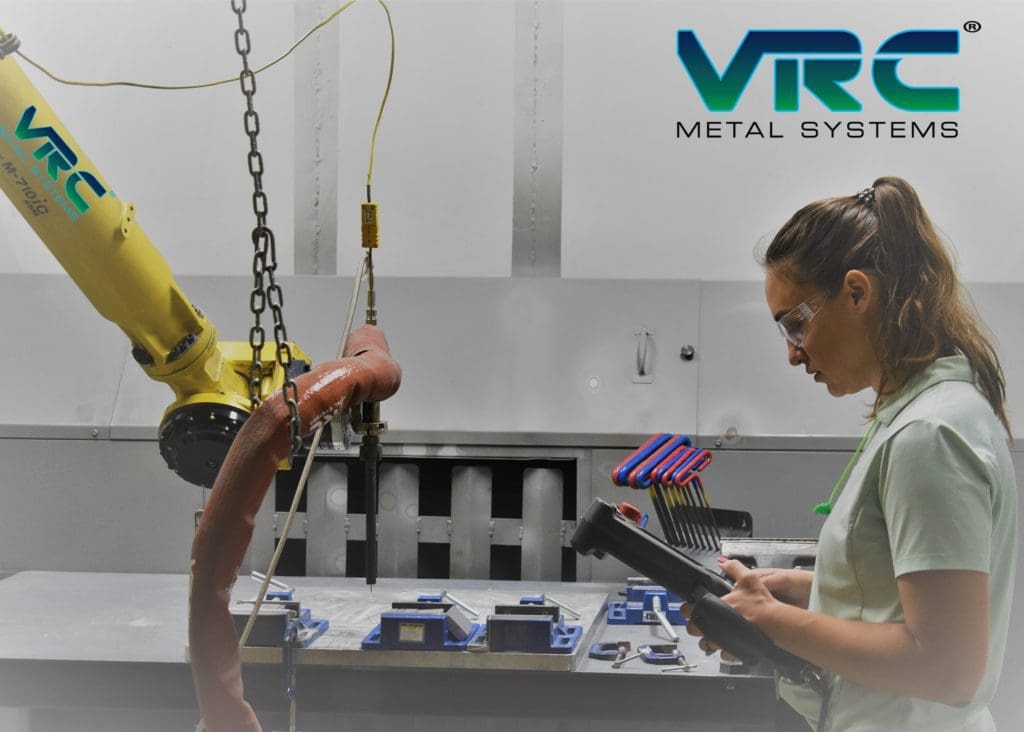 VRC primarily focuses on making equipment used to deliver cold spray including the Gen-III, C.A.M.P Site, and Raptor systems. 
Both the Gen-III and Raptor consist of a base unit that heats the carrier gas and controls the feed of the materials into the gas stream. They also utilize a  hose and a variety of nozzles for different velocities and patterns. The C.A.M.P Site is a larger system that is completely portable and designed to be self-sufficient. 
VRC's equipment has been and continues to be used to repair components not only on the B-1B  but many other aircraft, maritime vessels, and other machines such as the V-22. Given how much metal is used throughout the military, cold spray repairs could be the future for repairing parts not only for air but also land and sea systems. 
In 2019 The 28th Bomb Wing created the Air Force's first field-level additive manufacturing flight in their new Additive Manufacturing Facility right there on the Ellsworth Air Force Base. Since then the AFB has become the center of cold spray expertise with the ability to not only make CS repairs but also test the strength of each repair with scientific precision. 
Brian James continues to stress "what we are doing here is taking technology that has been tested and proven in the lab and infusing it right at the combat level" at Ellsworth AFB. The Additive Manufacturing Facility at Ellsworth truly is the first of its kind but the team would like to see this facility replicated at certain AF bases along with portable CS units. 
Just What They Needed
Technological and process advancements have a history of rising and quickly failing inside the Air Force. However, the revolutionary concept and applications of cold spray along with the team at Ellsworth have piqued the interests of many. 
The Air Force's Rapid Sustainment Office (RSO) has been integral in aiding the CS team at Ellsworth. The RSO provided the team with funding to acquire the portable Raptor cold spray system used to repair the B-1B. The RSO have also been helping spearhead the repair of components from several other aircraft with cold spray technology. 
The unique support for cold spray in the Air Force has come from both the Air Force Material Command along with collaboration from the Air Force Sustainment center at Tinker AFB and the Oklahoma City Air Logistic Complex. These same groups are also working with the Ellsworth team to test the abilities of cold spray against battle damage which requires speed, portability and cost effectiveness of course. Luckily, cold spray can help in all three of those areas. 
James is adamant that "without the support of [South Dakota School of Mines], the Army Research Laboratory and several industrial partners, we couldn't be successful." He continued saying "when we did this [B-1B] repair we let it be known we had some physical obstacles to overcome. All we had to do was ask and we had experimental nozzles being over-nighted to us."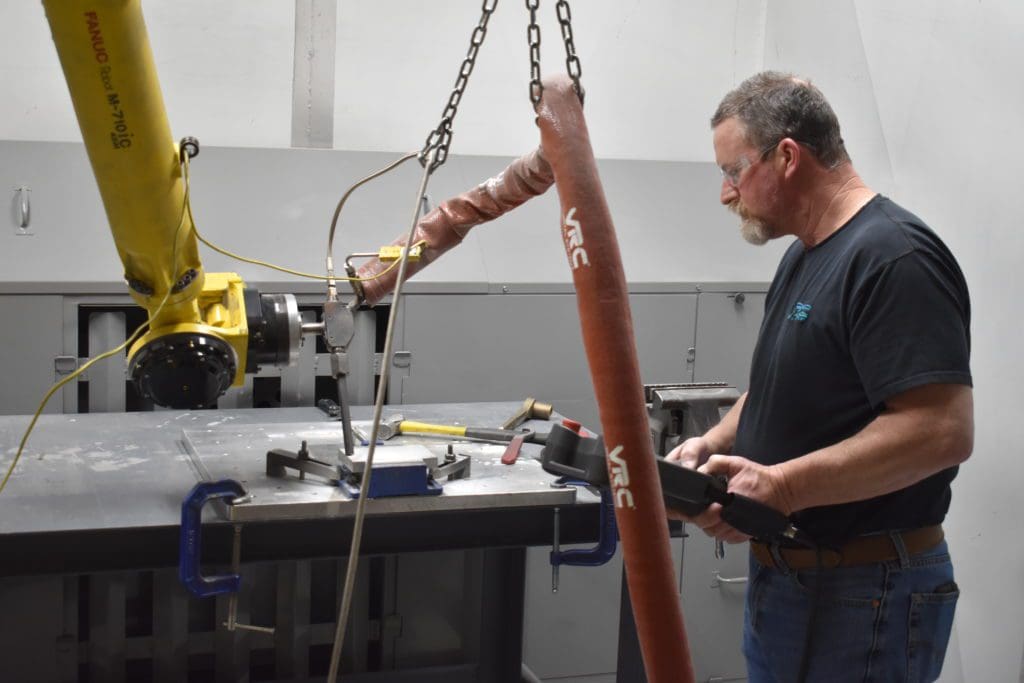 With just five cold spray equipment manufacturers throughout the world (Japan, Germany, Russia, Canada and the U.S.) it is a rarity for a company like VRC Metal Systems to be such a prominent cold spray industrial partner for the government. VRC is also one of three companies which specialize in advanced, high-[pressure cold spray equipment used for structural repairs. 
It appears that VRC is successfully navigating the "boneyard" of defense technology startups that have made it part initial development but often fall short of government/commercial acceptance. 
"Over the last several years, the military has really begun to adopt the technology," Hrabe states. "It's growing rapidy there and across aerospace. There are many expensive parts that now get thrown away for a minor amount of corrosion or wear that can easily be repaired with this technology." 
Since the Air Force switches to a two-level maintenance (flightline/depot) system they have been plagued by excessive maintenance backlogs since the system relies on commercial repair depots. Cold spray may be able to help if not eliminate that system and clear those backlogs. The two-level maintenance system has developed some efficiencies but the using these depots for repairs takes time and often is regulated by union rules. 
Cold spray repair may enhance the ability for the depot servicemen to choose where and when maintenance should be performed. 
Hrabe has estimated that cold spray repairs yield a "10 to 20:1 return on investment ratio" for the average aerospace component. This could be huge for the Air Force as they look to continuously increase efficiency and decrease costs. James has seen firsthand during his several deployments as an supporting engineer the benefits in efficiency and effectiveness.